Brooklyn Nets: Caris LeVert making the leap? No, he's already there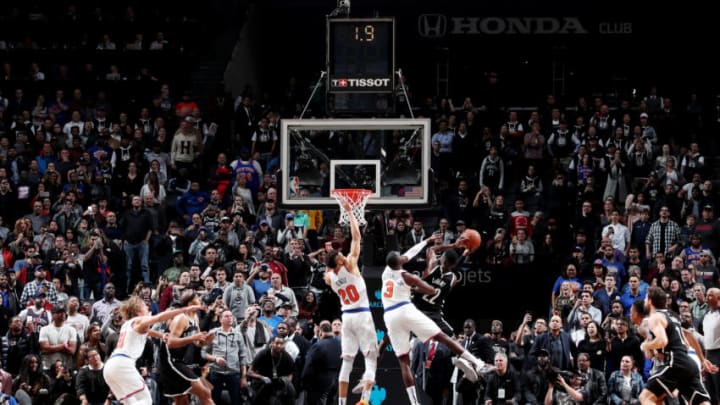 Brooklyn Nets Caris LeVert. Mandatory Copyright Notice: Copyright 2018 NBAE (Photo by Nathaniel S. Butler/NBAE via Getty Images) /
Brooklyn Nets guard Caris LeVert followed up a great opening-night performance with an even better one Friday, scoring 28 points and hitting a game-winner.
Caris LeVert of the Brooklyn Nets had a terrific performance on opening night against the Detroit Pistons, but there was one sequence he wanted back desperately.
Down one in the closing seconds, LeVert drove into the lane, but had the ball poked away. It rolled out of bounds and the Nets' chances of winning the game rolled away with it.
It took some of the shine off a career-high-matching 27 points. The Nets warned us since training camp this was coming. Players, coaches … none of them could stop raving about how much better LeVert was coming into the season.
After two games in 2018-19, it's quite possible LeVert skipped right past making the leap to landing on the ledge.
On Friday night in the home opener against the New York Knicks, LeVert topped himself, setting a new career-high with 28 points on 8-of-13 shooting in a 107-105 win.
And that whole late-game thing? On Friday, LeVert got the ball and stared down former University of Michigan teammate Tim Hardaway Jr., setting up for a final shot.
Finally, he broke right, got into the lane, leaned away from what was pretty solid defense by Hardaway and knocked down a short floater with one second remaining to give the Nets the lead they wouldn't lose.
LeVert made a little statistical history in the process.
LeVert finished his night with six rebounds and five assists to go with his career-best scoring output, hitting 2-of-5 from 3-point range and living at the foul line, knocking down 10-of-11.
And, like stars do, LeVert was absolutely the best player on the floor in the fourth quarter. He was money at money time.
In the final 12 minutes, LeVert scored 15 points, making two 3s plus the game-winning drive on his only three shot attempts, and knocking down 7-of-8 at the line.
He had some help in the fourth-quarter run, to be sure. Benched the entire fourth quarter on Wednesday night, D'Angelo Russell knocked down nine of his 15 points in the fourth on Friday.
But LeVert has become something special. A 6-foot-7 wing who can drive and dish and is developing a softer touch from long range, LeVert is showing the NBA why he was a projected lottery pick coming out of Michigan before being sidetracked by a troublesome foot injury.
That injury cost him large chunks of both his junior and senior seasons in Ann Arbor and knocked him down the draft board all the way to No. 20 overall in 2016, where he was taken by the Indiana Pacers and then dispatched to the Nets in exchange for veteran forward Thaddeus Young.
More from Nothin' But Nets
LeVert and Hardaway crossed paths for one season at Michigan, in 2012-13 when Hardaway was the team's second option behind Trey Burke — now his teammate with the Knicks — and LeVert was a freshman reserve getting 11 minutes a game and averaging 2.3 points for a team that lost to Louisville in the final of the NCAA Tournament.
So in two games, LeVert has scored 55 points on 18-of-31 shooting (58.1 percent) and has made 19 trips to the foul line, making 17. It is the driving game that is so much improved for LeVert, as well as his strength.
He's able to finish through contact or get the shot off while being hit. Consider he's averaging 9.5 free throw attempts per game through two games after averaging 2.6 attempts last season and 2.2 for his first two years.
And after shooting only 71.9 percent at the line through his first two campaigns, LeVert is making them currently at an 89.5 percent clip. The only thing better than getting to the line a lot is making almost all of them once you get there.
Two games is a very small sample size and neither the Detroit Pistons nor the New York Knicks are blessed with All-Defensive caliber players on the perimeter.
That said, Saturday's matchup between LeVert and Indiana Pacers All-Star Victor Oladipo is shaping up as a very interesting one indeed.
We might have a better idea of just how high LeVert has leaped once that battle is done.