Brooklyn Nets News: Cam Thomas injury update is less than ideal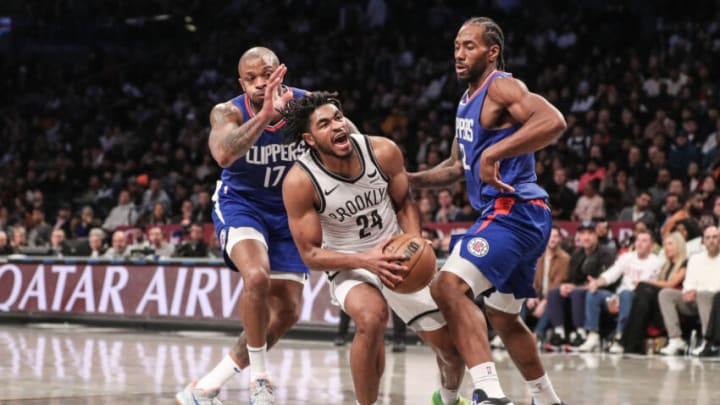 Nov 8, 2023; Brooklyn, New York, USA; Brooklyn Nets guard Cam Thomas (24) is double teamed by LA Clippers forwards P.J. Tucker (17) and Kawhi Leonard (2) in the second quarter at Barclays Center. Mandatory Credit: Wendell Cruz-USA TODAY Sports /
It's hard to find an NBA team that has dealt with worse injury luck this season than the Brooklyn Nets. Both Cam Johnson and Nic Claxton, two starters, were injured in the season opener, and neither have appeared in a game since. Spencer Dinwiddie, another starter, also missed time with injury.
The Nets starting point guard, Ben Simmons, now has a hip injury and missed last night's game, while reserve guards Dennis Smith Jr. and Lonnie Walker IV have also been banged up.
There are just an absurd amount of injury problems in Brooklyn right now.
The worst injury blow of the Nets season happened Wednesday night, when young phenom Cam Thomas, Brooklyn's best offense player, had to be helped off the court with an apparent ankle injury after being tripped by PJ Tucker.
The injury looked terrible in the arena, especially since Thomas couldn't put any weight on his left foot, but today's update is very encouraging.
Cam Thomas to miss at least two weeks with a left ankle sprain
According to Shams Charania of The Athletic and Stadium, Thomas will miss two weeks with a left ankle sprain. It's certainly a bummer to see the Nets offense focal point and breakout star miss anytime, but given what it could have been, this is a win for Brooklyn.
The Nets announced Thomas will begin rehab immediately
The Nets followed up on Charania's report, announcing Thomas will start rehabbing immediately and will be re-evaluated in two weeks.
Over the next two weeks, Brooklyn is scheduled to play at Boston, home against Washington, home against Orlando, at Miami, home against Philadelphia, and at Atlanta. That is a brutal stretch and just got even more challenging now that the NBA's 10th leading scorer will be watching from the sideline.
Brooklyn's game in Boston on Friday is a part of the NBA's inaugural in-season tournament, as is their home game against Orlando. Playing without Thomas will significantly hurt Brooklyn's chances to advance to the tournament's knockout stage.