NBA Mock Trade: Nets acquire superstar in this trade with the Raptors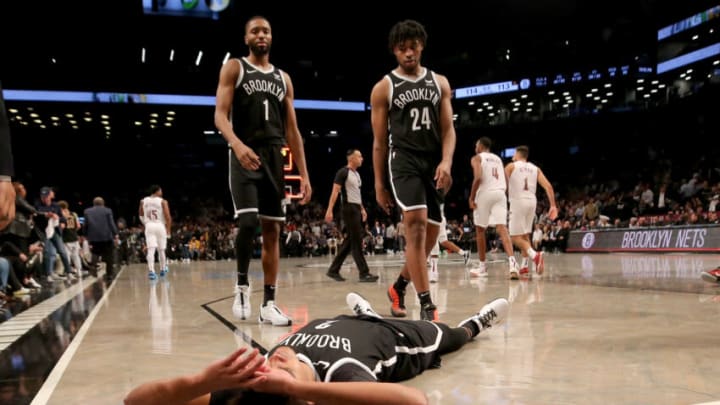 Oct 25, 2023; Brooklyn, New York, USA; Brooklyn Nets forward Mikal Bridges (1) and guard Cam Thomas (24) walk towards forward Cameron Johnson (2) as he reacts after missing his shot at the buzzer during the fourth quarter against the Cleveland Cavaliers at Barclays Center. Mandatory Credit: Brad Penner-USA TODAY Sports /
The Brooklyn Nets are in a great situation. Sean Marks's team has a nice young core and can compete with the best teams in the association. Despite being 5-5, Brooklyn has been in every game and has only lost one game by more than 10 points.
The Nets have built on last year's success, with Mikal Bridges playing well, Cam Thomas taking another huge step forward, and Ben Simmons is back to his former form. The main negative for the Nets is that they have been dealing with injuries from key pieces Nic Claxton, Cam Johnson, Cam Thomas, and Ben Simmons.
The Nets are in a tricky situation because even when they're fully healthy, they won't be that much better than they are right now. There's a chance the team from NYC can sneak their way into the playoffs, but if they want to make some serious noise, they must trade for another star.
Currently, not many star players are available via trade in the NBA, but one player that stands out is Pascal Siakam. The Raptors are also stuck in a similar position as the Nets, but with the recent play of Scottie Barnes, it may be time for the Raptors to move on from Siakam and focus on how to win with Barnes at the helm.
What would the Nets trade to the Raptors for Pascal Siakam?
For the Nets to get Pascal Siakam, they would first have to find a way to match his $37.8 million contract. Luckily for the Nets, they have many contracts they can match without having to gut their entire roster. The Nets have four players making over $20 million, two of whom are their primary playmakers (Dinwiddie and Simmons), while another (Bridges) is the current franchise cornerstone.
The best way for this deal to get done is for Sean Marks to wait until December 15th to trade away Cam Johnson. The Nets would then be able to offer a package of Johson, Dorian Finney-Smith, and two first-round picks for Siakam.
Why would the Nets do this trade?
By doing this trade, the Nets are giving up an injury-prone player who is a big-time NBA wing, a solid three and D player, and two first-rounders, but greatly enhancing their chances of making noise come April. In return, they are getting a bonafide, reliable star to pair up with Bridges and Thomas.
Siakam is a great scorer and an experienced player. The only other player on the Nets who has been to the finals is Mikal Bridges, so Siakam will also provide leadership that isn't currently in the Nets locker room. He would be the only player on Brooklyn's roster to have an NBA title under their belt.
With the way Thomas has been playing, the Nets would have a solid big three if they added Siakam. Brooklyn would employ a great rim protector in Nic Claxton, a great playmaker and elite defender (Simmons), a good sixth man (Spencer Dinwiddie), a young bucket-getter (Thomas), and two all-star caliber forwards (Bridges and Siakam).
That is the making of a legit playoff team.